The Orange Metrolink Station became a station stop in the modern-era (after service was discontinued by the ATSF and the station closed when Amtrak began on May 1, 1971) on March 28, 1994 when Metrolink added two more daily round-trips to Los Angeles in addition to the one that was operated by Amtrak as the Orange County Commuter beginning in 1990. Today the station is just south of the Junction where the Orange County Line and the Inland Empire/Orange County Line join each other and it sees ten, and seven trains respectively on each line mainly during rush hours plus the 3 evening OCTA sponsored local Fullerton to Laguna Niguel/Mission Viejo (or Oceanside) weekday round-trips. There are 3 (two to L.A. one to San Burnadino) weekend trips.
Amtrak served the station under the Rail2Rail program between October 29, 2007 and 2013 as a full Amtrak stations (with Amtrak tickets sold from the station) with service at most as two southbound and two northbound trains stopping daily.
The station has two side platforms for a two track line with a fence in between. These begin at the grade crossing of Chapman Avenue, with little walkways to the southern end of the platform. The platforms each have three simple canopy structures with four posts holding them up. The northern end of the platforms are connected by a pedestrian underpass that has a ramp and staircase down to each side to access it. The wheelchair ramps are over the tunnel portal. (There is an additional wheelchair ramp added later at the southern end of track 2, the Oceanside-bound platform). This underpass opened on August 27, 2009 and a plaque says it is dedicated to safety of the residents, visitors, and commuters of the City of Orange. Along it is the Orange in Motion by Marsh Scott: an art installation of metal oranges behind a colorful backdrop and important years in the history of orange and the railroad. There are glass blocks in the ceiling in the area directly between the tracks shining light into the underpass. It connects directly to the bus loop along the east Los Angeles-bound track on track 1, this serves 5 OCTA bus connections.
Just south of the bus loop are the doors into restrooms that is are inside the more modern former freight house extension of the historic train depot built in 1938 after the railroad first arrived in town in 1888. It was listed as a National Historic Landmark in 1990. It is in the Spanish Revival style with simple white exterior walls. The restrooms are the only real public areas of the depot now since it houses a branch of the Ruby's Diner chain and the Streamliner Lounge. There is a small parking lot beyond the depot for customers only. Along the southern end of track 1 is Depot Park a small corner of green space between the tracks and Atchison Street which includes a Veterans Memorial. Track 2 is along the station's transit parking lots which include a total of 396 spaces.
Photos 1-77 taken on February 17, 2012; 78-81: December 21, 2019; 82-105: December 22, 2019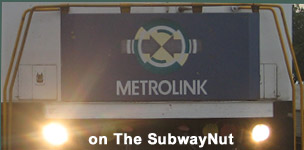 Last Updated: 3 May, 2012
All photos are by Jeremiah Cox
All histrocial dates unless otherwise noted come from: Edward J. Simburg, Railroad-Freeway, Agoura, CA: Yerba Seca Publications, 1998
This website is not allifiated with Metrolink (the SCRRA), there official website is here, or any other transit provider
This Website is copyright © 2003--2023, Jeremiah Cox. Please do not remote link or copy images from this website without permission. Contact the webmaster