Colfax is a station stop on the California Zephyr and has been since the Summer of 1976 when service began as an experimental stop. The station was the terminus of one daily Capitol Corridor train that was extended north (from Roseville) all the way to Colfax beginning on January 26, 1998. A lack of ridership nearly resulted in Colfax losing all service including from the California Zephyr but community support kept the Zephyr stopping. The Capitol Corridor extension though to Colfax was short-lived and service of the one-daily round-trip into the foothills of the Sierras was pushed back to Alburn effective February 13, 2000 as a compromise to save service for the majority of the passengers beyond Roseville. Today the station has service from the California Zephyr and three daily throughway bus round-trips to and from Sacramento (that originate in Sparks and Reno, Nevada, but intermediate travel to and from Reno is prohibited). Sacramento-bound buses have way too much padding in the schedule between Truckee and Colfax making the stop an unofficial fresh-air stop for bus passengers (and the reason this tiny section is night photos) is on the SubwayNut. The timetable gives 80 minutes of travel time for what is a 50 minute, 52 mile drive without traffic.
The station has a historic 1906 SP train station that was renovated between 2004 and 2007. The station is a single story building in the Colonnade style with plenty of porches around the station interior. It is painted in the usual yellow cream color with brown trim found at other SP depots. The depot is home to the Colfax Area Heritage Museum and a visitor information center run by the Colfax Area Chamber of Commerce. Outside the station are a few SP Baggage carts sitting along the platform.
The depot is at the northern end of a small rail yard still used by freight trains. The switches for this rail yard start along what was once the platform directly outside the depot so trains stop at a small platform (that can accommodate maybe two cars) just north of the depot, between it and the grade-crossing for Grassvalley Street that is along the northern end of the platform. The platform is completely exposed to the elements but has a tactile warning strip and simple green lampposts. There was just an unusual blue with white text (and the modern logo) Colfax Amtrak sign along the platform but in 2011 ADA accessibility improvements added modern station signs and a wheelchair lift inside an enclosure. Behind the platform is a small grassy plaza between the tracks and Railroad Street in the space taken up by the depot south of the station.
Bus passengers are served by a stop directly outside the depot along Railroad Avenue, south of the train platform. They have a bus shelter with concrete pillars and a roof. The shelter has a windscreen in the middle of it, a bench on one side and a bike racks on the other. Parking is minimal with just a few spaces along Railroad Avenue between the depot and Grassvalley Street. A few spaces by the bus stop are Parking for EV charing only with an EV chrager by them.
Photos 1-4 taken on 13 March, 2010, 5-17: 17 January, 2014, 18: 17 January, 2015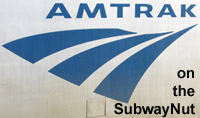 Last Updated: 20 January, 2015
This website is not affiliated with Amtrak California, their official website is here, A source I have used countless times while compiling this section is Amtrak's Great American Stations as well as Timetables.org where all historical train information comes from.
This Website is maintained and copyright © 2006--2022, Jeremiah Cox. Please do not remote link images or copy them from this website without permission. Contact the webmaster