White Plains is the most important, busiest stop on the Harlem Line. Nearly every Harlem Line train serves the station except for a few peak direction rush hour trips (2 in the AM Peak, and 4 in the PM peak, plus trains that terminate short of White Plains primarily at Crestwood). No trains originate or terminate at White Plains, all local trains terminate at North White plains one stop north, that most off-peak express trains also serve, making either this station or North White Plains the station for intermediate riders to transfer at. The station is located in conjunction with the Bee-Line Buses' TransCenter, their most major hub, located on the ground floor of the main parking garage.
The station is located on an elevated embankment with Hamilton Avenue and Main Street at it's southern end and running north. For trains the station has two tracks and two platforms. The main platform is an island platform that is extremely wide. Station services are on this platform, including the main waiting area, restrooms, and the ticket office, open daily from 6:00am to 9:00pm. There is also a side platform only along the normal northbound track that serves as an exit platform, trains open their doors on both sides and the entrances to this platform have no entry signs. The station is fully ADA accessible. Both platforms are entirely covered by brown canopies. The island platform's columns are designed to look like bricks (that is also the design of the walls that aren't windows of the station buildings located on the platform).
Photos 1-7: 20 June, 2005; 15 September, 2015; 8-15: 2 November, 2013; 16-27: 15 September, 2015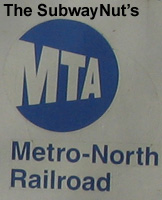 Last Updated:5 June, 2016
All photos are by Jeremiah Cox
This website is not allifiated with MTA Metro-North Railroad, there official website is here
This Website is maintained and copyright © 2003-2015, Jeremiah Cox. This website is not affiliated with any transit provider. Please do not remote link images or copy them from this website without permission.