Tremont (along with its sister station Melrose) is one of the two stations in the South Bronx that has never been given the chance to have decent ridership meaning many riders who might live closer to the station and be reverse-commuters will use Fordham, 1 mile north instead. The stop has off-peak service only every two hours and peak service a bit more frequently. From July 2013 until May 2014 the rebuilding project of the line through the Bronx, reducing the number of in service tracks from 4 to 3discontinued all service to Tremont and Melrose with dedicated shuttle buses. The reason was to speed trains through the work area. The Bx41-SBS stops one block west of the Station on Webster Avenue and directly alongside the Fordham station with just one intermediate stop and would have been a better cross-honor alternative.
In March 2005 I wrote about the station as: Tremont is a station located in the South Bronx that has definitely seen better days. The station itself has two narrow side platforms that can accomidate four cars, each with a single bench, and Recycling Center, there are no canopies on the platform. The station's single TWM is located at Tremont Avenue as well as a pay phone in a small shelter but the platforms are reached by walking down Park Avenue (each direction of the street is on each sides of the open-cut), to the station entrances which are one block away at 176 Street, this street has no overpass over the tracks. The entrances both consist wooden staircases of 6 steps that have tiny canopies. The station at one time clearly had entrances directly from Tremont Avenue.
Since 2005 the station has been rebuilt into a more modern station albeit with two side platforms that can only each accommodate two cars. The entrances are in partical places with a single staircase down to each at their northern ends from the north side of Fordham Road with a bus shelter on the street protecting the same single TVM that existed in 2005 albeit with the payphone removed.
Later in 2005 (starting by June) the station was renovated and has a similar design to Melrose. Entrance staircases were restored to Tremont Avenue, but the number of cars that can platform was reduced to only two. The new staircases are made of steel and look modern and are covered. Along the platform are unique lampposts each holding up two light fixtures. For waiting passengers there is nothing, just an exposed platform except for the staircase and a few benches.
Photos 1-22: 21 February, 2005; 23-30: 19 March, 2005; 31: 20 June, 2005; 32-39: 13 January, 2012; 40-42: 25 July, 2015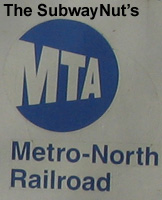 Last Updated:15 August, 2015
All photos are by Jeremiah Cox
This website is not allifiated with MTA Metro-North Railroad, there official website is here
This Website is maintained and copyright © 2003-2019, Jeremiah Cox. This website is not affiliated with any transit provider. Please do not remote link images or copy them from this website without permission.