Spring Valley is the terminus of the Pascack Valley Line co-operated by both New Jersey Transit and Metro-North except for two daily in each direction Metro-North expresses that only make the three New York State Rockland County stops and then run non-stop to Secaucus and then Hoboken Terminal. The station has a series of bus stops across from the platform serving as a Hub for Transport for Rockland and the TAPPAN ZEExpress that runs across the Hudson River to Tarrytown on the Metro-North Hudson Line (this how your webmaster continued after riding a train here back in 2005 when the Pascack Valley Line lacked passing sidings and had only peak direction weekday service, passing sidings and all day service began in October 2007) and White Plains.
Photos 1-12 taken on 10 August, 2006, this stop is high on the revisit list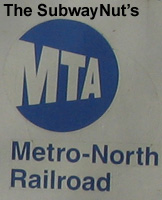 Last Updated:18 July, 2015
All photos are by Jeremiah Cox
This website is not allifiated with MTA Metro-North Railroad, there official website is here
This Website is maintained and copyright © 2003-2019, Jeremiah Cox. This website is not affiliated with any transit provider. Please do not remote link images or copy them from this website without permission.