Chappaqua in 1984 received a new high-level island platform that really impeded train access as electrification came to the Harlem Line. The stations original large stone station house built in 1902 and is on the national register of historic places is along the northbound, east side of the tracks. This station has two porches held up by wooden beams attached to the station that provided outdoor shelter for waiting passengers, although the platform here is now fenced off. Inside the station house is Cafe La Track, a morning coffee shop, and a waiting room. The ticket office closed effective January 13, 2010. The building is owned by the Town of Chappaqua and was restored in 2005. Along the plaza that surrounds the station is a narrow covered driveway entrance where patrons could have a fully covered exit from their carriage into the station house.
The modern high-level island platform begins beneath the wide overpass of Quaker Road that looks like some construction was recently done on it, but lacks a staircase directly down to the station for improved pedestrian access, and runs south for 8 cars. At almost the southern end of the platform a single staircase and elevator lead up to a small overpass, containing the station's TVMs. This overpass cross over to another elevator and two staircases down to Allan Place, the northern staircase ends almost directly in front of the southern porch of the historic depot. Surrounding the station is a wide plaza primarily full of parking with a small plaza at the end of Woodburn Avenue across from the depot.
All Photos: 15 September, 2015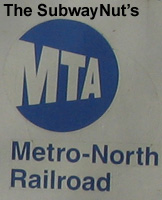 Last Updated:27 October, 2016
All photos are by Jeremiah Cox
This website is not allifiated with MTA Metro-North Railroad, there official website is here
This Website is maintained and copyright © 2003-2019, Jeremiah Cox. This website is not affiliated with any transit provider. Please do not remote link images or copy them from this website without permission.