Millennium Station is the terminus of the Metra Electric (formerly IC's Electric) Line and the South Shore Line to South Bend, Indiana. The station was named the Randolph Street terminal until construction and renovations were completed in 2005 with the station fully decked over due to the building of Millennium Park above the station. The station's location has received train service since 1856 with the stop rebuilt into a high-capacity commuter station with high-level platforms station in 1926 with the electrification of the Illinois Central suburban lines. From 1966 to 2003 the station was home to fare gates and later turnstiles from the electronic fare collection system used on IC Commuter and later Metra electric trains.
The Interurban South Shore Line has provided service from Randolph Street to South Bend, Indiana (with IC steam locomotives pulling electric Interurban cars downtown before 1926) under a trackage right agreement that continues today under Metra. Today the Northern Indiana Commuter Transportation District (NICTD) operator of the South Shore Line, continues to pay Metra $75 per individual rail car that travels from the Kensington Interlocking to Millennium Station to cover electricity and other costs. NICTD also doesn't allow passengers to travel locally between the stations shared with Metra as it enters Downtown Chicago. Metra does subsidize service and sets fares to the South Shore Line's Hegewisch Station, the only stop within Illinois not served by Metra.
The station has two distinct areas, one used by Metra Electric Trains and one by the South Shore Line. The main line tracks used by Metra continue directly under the station's main concourse where they fan out to become 6 tracks (numbered 1 through 6) and 3 platforms, each with an elevator and staircases up to the main station concourse above. The main station concourse is a low-lying modern underground shopping mall-like space. The ceiling has wavy mesh covering the lighting above, numerous columns are clad in circular silver, and glass facades line the main corridors of approximately 10 retail establishments, which target commuters. A central exposed area around the platform staircases and elevators contains a seating area for Metra passengers. Ticket offices (one for Metra, one for the South Shore Line) are along one wall of this area.
The South Shore Line uses 6 'upper' level tracks that are all on what's a siding to the east of the main Metra Line. These 6 siding tracks and 3 high-level platforms all converge onto one track before trains switch onto the Metra Line. This means South Shore Line trains enter and leave Millennium Station very slowly do to the switching. The South Shore Line station area is accessed primarily through doors from the brighter, more modern, main station area by the South Shore Line ticket office. Passengers enter a dark underground area with cinderblock walls (some painted in the South Shore Line colors), with benches forming a small waiting area along with a set of South Shore Line TVMs. All access to the 3 narrow but 8 car long high-level platforms is beyond the bumper blocks (the waiting and entrance area is at the same level as the high-level platforms)
Pedestrian access to the station consists of a main staircase (with both Metra and South Shore Line logos) at the SW corner of Michigan and Randolph Streets. Additional access is provided through the Chicago Pedway system, various corridors providing direct connections to downtown office buildings, along with other corridors that connect the station to the underground Millennium Park Parking Garage. This is where accessible access to the station is located. A set of doors from the South Shore Line area leads directly to the lower-level roadway service road system beneath Randolph Street that provides access to trucks for downtown office buildings and through-traffic in the area from the station north to the Chicago River.
Photos 1-3: 4 August, 2011; 4-17: 27 October, 2011; 18-21: 17 June, 2016; 22: 19 November, 2016; 23: 5 June, 2017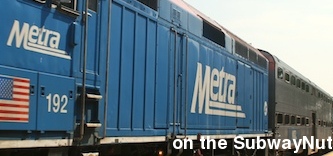 Last Updated: 1 October, 2017
All photos are by Jeremiah Cox
This website is not allifiated with Metra Commuter Rail, or any other transit provider
This Website is copyright © 2003-2018, Jeremiah Cox. Please do not remote link or copy images from this website without permission. Contact the webmaster