The Anaheim Regional Transportation Intermodal Center opened on December 6, 2014 as a way to combine Amtrak and Metrolink, with Intercity Bus (Greyhound, Megabus, and Tres Estrellas de Oro to Tijiana), along with local OCTA, and ART (Anaheim Resort Transportation) buses that provide infrequent (every 30-40 minutes), with a non-posted schedule to Disneyland. The modern glass oculus station is designed for the future for California High Speed Rail (if it ever arrives), and a transit line (either a Monorail or a Streetcar) the 3 miles to Disneyland.
The core of the station is a futuristic glass structure that resembles an oculus (dramatically lit at night). The front of the station contains the main drop-off loop with glass doors in front of lettering that spells out Anaheim Regional Transportation Intermodal Center. The station has a confusing parking situation in 3 lots, with short term parking in front of the station and other parking across the tracks (carved out of the parking lots for Angel Stadium). Bus bays (and a bus loop) line the other 3 sides of the Artic Station
Entering passengers reach a modern atrium, directly in front of them is a long staircase with two escalators along each side up to the second floor. On each side of this staircase are separate ticket offices for rail and bus. Each of these has large LED departure boards for bus and train times. A corridor leads back (past some retail space) towards additional doors out to the bus bays on each side of the Artic Station. To continue towards trains passengers must go up the staircase first to the second floor (with more retail space), and then up a shorter flight of stairs (with escalators) to the third level and access to the bridge out to the rail platforms.
For trains, the station has two side platforms that begin just southeast of the covered bridge that provides two elevators (in seperate glass shafts on each side of the bridge) and long staircase down to each platform. These platforms are extremely long (with the former AmStation once at their western ends) lead over Douglas Road, under the CA-57 Freeway, with a final ramp off (and pedestrian tunnel remaining open from the original AmStation) each platform to the parking lots that provide access to Angle Station. The platforms have futuristic shelters held up by angled steel beams, covering benches.
Photos 1-21 taken on 9 April, 2017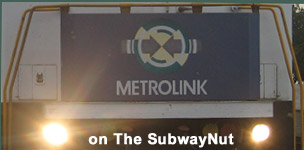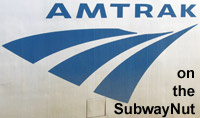 Last Updated: 3 May, 2017
All photos are by Jeremiah Cox
All histrocial dates unless otherwise noted come from: Edward J. Simburg, Railroad-Freeway, Agoura, CA: Yerba Seca Publications, 1998
This website is not allifiated with Metrolink (the SCRRA), there official website is here, or any other transit provider
This Website is copyright © 2003--2019, Jeremiah Cox. Please do not remote link or copy images from this website without permission. Contact the webmaster