Walnut Creek is an elevated BART station with two side platforms for the two track Pittsburg/Bay Point Line and opened on May 21, 1973. These two side platforms have concrete walls with brown framing for individual canopies only in the middle of the platforms. The elevators lead up each platform at an exposed location just south of the end of the canopies. From here fare control is directly beneath the platforms towards the southern end of the canopied section. Going through the fare gates west leads to the majority of the station's 5,920 parking spaces inside a 4 Level parking garage with brick walls that opened on September 6, 1994, with a $1 parking fee charged. This is located between the station and I-680. There are 4 more supplemental lots. Going east a canopy extends from the fare control area to a covered bus loop and out to North California Boulevard and Ygacio Valley Road.
Photos 1-10: 20 March, 2008, 11-17: 16 March, 2010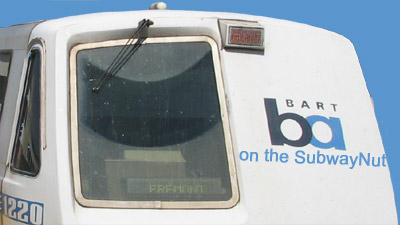 Last Updated: 26 July, 2013
This website is not affiliated with BART. Their official website is here
This Website is maintained and copyright © 2006--2019, Jeremiah Cox. Please do not remote link images or copy them from this website without permission.