El Cerrito del Norte is an elevated BART station with two side platforms on a concrete guideway that opened on July 29, 1973. The platforms have bare concrete walls and framing including around the canopy structure (that includes beams crossing over the tracks) around the middle of the platform (covering about five cars). All passengers exit in this area down a staircase, elevator, or an escalator (down from the Richmond-bound platform, up from the Oakland-bound platform) that have some mosaic tile to add a bit of color to the station. This exit plaza is located between Cutting Blvd and Hill Street that cross beneath the northern and southern ends of the station respectively. From the exits (there are fare gates on both sides of the small lobby), along the western side of the station is a major bus loop serving both local AC transit and WestCAT routes and the terminus of Commuter Routes: VINE Transit, FAST, and SolTrans Buses across Carquinez Strait to Napa County and Solano County, Golden Gate Transit across the Richmond-San Rafael Bridge. Parallel to the eastern side of the guideway and station is the Ohlone Greenway, beyond the greenway is a four story brick walled parking garage (that was dedicated on July 12, 1994) and it and the other parking lots around the station give it 2,198 parking spaces. The station is extremely close to I-80 and its Cutting Blvd exit (San Pablo Avenue is the only major street between the station and the highway) making it an important Park & Ride stop.
Photo 1-14: 15 March, 2010, 15-36: 15 June, 2013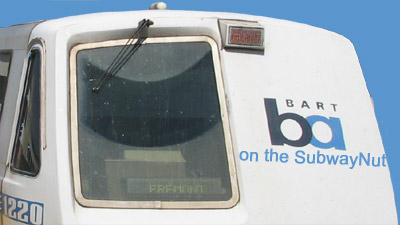 Last Updated: 26 July, 2013
This website is not affiliated with BART. Their official website is here
This Website is maintained and copyright © 2006--2019, Jeremiah Cox. Please do not remote link images or copy them from this website without permission.