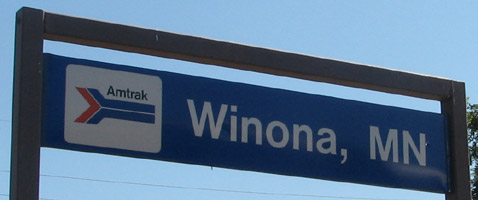 Winona, MN is a locomotive crew change point on the Empire Builder. This makes it a brief fresh air stop for trains. The station platform is made of concrete and wood. The wooden portion is planks covering a second station track, along the track that at least eastbound Empire Builders use. The stop has recently gotten the addition of modern signage along the platform and there is a historic Milwaukee Road Station house still staffed by an Amtrak employee and offers checked baggage. The station house is set back from the tracks used by the Empire Builder a bit with a parking lot and grass in between, a second branch line track with a brick platform is right outside of the actual depot and has its overhang. The parking lot is so close to the platform without a genuine fence that temporary barricades have been set up that have little printed signs (signed by Amtrak) on them saying "No Parking, No Driving on Platform."
Photos 1-4: 14 July, 2006, 5-20: 24 October, 2011, 21-40: 2 July, 2013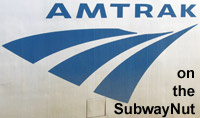 Last Updated: 26 August, 2013
This website is not affiliated with Amtrak, their official website is here, A source I have used countless times while compiling this section is Amtrak's Great American Stations
This Website is maintained and copyright © 2003-2019, Jeremiah Cox. Please do not remote link images or copy them from this website without permission.