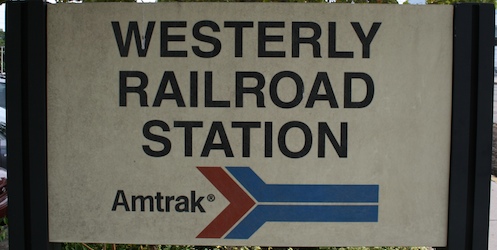 Westelry, Rhode Island is the middle stop on a three-stop stretch, 43-mile stretch between New London (the end of Shore Line East) and Wickford Junction (the end of MBTA Commuter Rail) where Amtrak trains; the Northeast Regional and Acela Express are the only operations on the Corridor. RIDOT has long range plans to extend MBTA Commuter Rail (or a Rhode Island branded version) down from Wickford Junction to Westerly, other proposals include extending Shore Line East here to meet it. This would make Westerly another transfer point between Commuter Rail systems like New Haven and Trenton. Today the station has changed relatively little since the 1912 station house was built in the Spanish Revival style. In 1999 the corridor was electrified but no real improvements to Westerly were made. The two still-low level side platforms for the two track line only received red LED "Train Approaching Stand Behind Yellow Line signs." There are still only old Chevron Arrow signs. The platforms have no actual Westerly signs, just a single old Arrow signs that say "Trains to Kingston, Providence and Boston This Side" or "Trains to New Haven, New York, Phla. and Wash. D.C. This side". A single pointless arrow sign (that is the banner logo) is at the entrance to the station parking lot. For service, since the station has only low-level platforms Acela can never stop. Ridership is low enough that only select Northeast Regional trains stop in Westerly (but slightly more than in Mystic). Service is provided from 5 trains per weekday, 6 per weekend day in each direction all other trains bypass Westerly although Acela doesn't go full speed through it since the two track station is on a curve where super elevation is clearly visible and trains tilt a bit going around it.
The two platforms begin at their eastern ends with staircases up from the underpass of Canal Street. Canal Street is the last street cross into Connecticut over the Pawcatuck River. Nearby Palmer Street in Pawcatuck includes the easternmost of the 11 remaining grade crossings all in southeastern New London County.
The Boston-bound platform includes the station's historic station house. For cars there is a loop around the station from parallel Railroad, plus a prominent pedestrian sidewalk entrance, and minimal parking with just 30 spaces (controlled by RIPTA). A piece of engraved stone calls this grassy area Rooney Park. On each side of the waiting area are smaller areas clearly originally used for checked baggage and other non-public uses (there aren't any widows) and larger doors. The single story, large station house has stucco and brick walls with a Spanish tiled roof. Inside is a large waiting area with cream-colored walls and a brown floor. The space is quite empty with benches only along the south wall, and the rest of the space is just empty. Along the side of the waiting area along the tracks is the ticket office. This has a wood paneled window with a clock above the agent's position. There is a QuikTrak Machine next to the ticket office and a final modern amenity with a boring early 2000s black advertising sign with two messages from Amtrak: one introducing Amtrak Guest Rewards and the other saying to buy tickets at Amtrak.com. There are also restrooms. The station's biggest problem is the depot and waiting room is only open for one weekday shift between 5:30am to 1:15pm. There isn't even access to a QuikTrak machine during the times the station is closed. From about 2000, when Amtrak no longer allowed passengers to board Northeast Corridor trains without paper tickets already in hand, until the start of eTickets in 2012 this was a big problem for riders. Passengers wanting to take afternoon or weekend trains had to either pick up tickets in advance or abandon getting on at Westerly at all, driving to Kingston instead.
Two more sheltered areas exist on the Boston-bound platform in the same style with columns and Spanish roofs like the depot. Just west of the depot is an outdoor exposed shelter that covers a bicycle rack, benches and a mobile-lift for wheelchair passengers. The other is more enclosed and covers the staircase down to the original pedestrian underpass (that until recently had signs calling it a subway, like the use of that term in Britain) that connects the two platforms. The staircases up to each end of the underpass have been modernized and has a track based wheelchair lift running along one side of the staircase (a rarity for public transportation). The underpass is unremarkable with minimal lighting and white walls with an arched ceiling. The underpass leads up to the New York/Washington-bound platform inside a small shelter building. This building is bigger than the building that surrounds the staircase for the other platform and includes a concrete floor but dark wooden doors and windows similar to the actual station house. It is set back slightly from the platform who's only amenities are a few benches outside of the shelter. Next to the shelter is a drop-off and pick up loop (but no additional parking) accessed from an unsigned driveway down from Friendship Street. This driveway passes by what is a former freight house and still and active freight siding.
Photos 1-79 taken on 23 August, 2013, 80 & 81: 7 June, 2014, 82-84: 1 August, 2015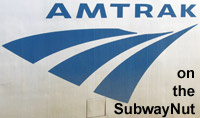 Last Updated: 1 August, 2015
This website is not affiliated with Amtrak, their official website is here, A source I have used countless times while compiling this section is Amtrak's Great American Stations
This Website is maintained and copyright © 2003-2019, Jeremiah Cox. Please do not remote link images or copy them from this website without permission.