The Troy Transit Center opened on October 14, 2014 replacing the Birmingham, Michigan AmShack Station which was located 11,000 feet north of the current station, with all access from the opposite side of the train tracks (which form the border between Birmingham, Michigan and Troy, Michigan). The building of the station was a long over 10 year saga with every city council since 1993 voting to build the station but funding and politics getting in the way. The City of Troy finally received an $8.5 million Recovery Act grant to build the transit center but the money was rejected by a new Tea Party mayor Janice Daniels on ideological grounds who told the New York Times (23/12/2011): "There is nothing free about government money. It's never free and it's crippling our way of life." The rejected money will not be returned to Washington to settle the national debt as this mayor wants but redirected to build a transit center probably in a different Michigan City. Mayor Daniels was later recalled in November 2012 and construction of the transit center began, and was completed in October 2013. A plaque in the Transit Center lists this year. Unfortunately, a land ownership dispute resulted in the completed station sitting vacant for another year before the station finally opened on October 14, 2014. Source.
The modern Troy Transit Center consists of a 260 foot low-level platform with a single modern glass shelter for waiting passengers, this platform is along the western side of the two track railroad, with the platform technically located in Birmingham. The platform has a glass shelter on it for waiting passengers (with a fence inside) and a series of poorly printed modern Troy, MI signs where the normal blue font for Troy is for some reason now a ghostly white (these signs are on both sides of the train tracks).
All platform access is via a modern glass overpass bridge at the southern end of the platform. The elevator structure and station house is open and closed by a security guard within an hour of each train departure. There is a button for an emergency intercom in case no one is at the station to lock or unlock it. Towers containing an elevator and staircase lead up to each side of the bridge.
Streetside the station has a small, modern waiting area with a few silver benches, vending machines, and restrooms. This waiting area leads out to bus stops along Doyle Drive and pedestrian drop-off area with large white letters spelling out Troy Transit Center above the glass wall that provides natural light into the waiting room. Bus shelters are on each side of Doyle Drive although just one SMART bus route directly serves the station, Route 430 which runs weekday peak hours only and terminates, using just one shelter. Beyond the bus loop is 124 space parking lot nestled behind the big box stores of the Midtown Square Shopping center. There are two long walking options (both with sidewalks) to reach public streets. Passengers can either head north a third of a mile up Doyle Drive (past the back of big box stores and a small townhouse development) to Maple Road or go east down Doyle Drive a quarter mile through an opening between the storefronts and between parking lots to reach Coolidge Highway.
All Photos Taken on 21 March, 2017 on a visit by automobile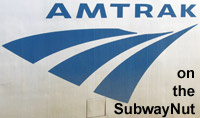 Last Updated: 18 October, 2017
This website is not affiliated with Amtrak, their official website is here, A source I have used countless times while compiling this section is Amtrak's Great American Stations
This Website is maintained and copyright © 2003-2019, Jeremiah Cox. Please do not remote link images or copy them from this website without permission.