The present Syracuse Amtrak station is located at the William F. Walsh Regional Transportation Center. It opened in 1999 replacing the previous station across town in East Syracuse that Amtrak used. The location of this station was along the large freight yard passenger past through east of today's station. The station is an intermodal transit hub with nothing in walking distance. To reach downtown Syracuse or Syracuse University local CENTRO transit service (or taxis) must be used. There is though tons of regional connectivity with Greyhound, Trailways, and MegaBuses sharing the station and regional CENTRO service to surrounding communities. The stop receives Amtrak service four times per day. Two trains are the extended Empire Service trains between Niagara Falls and Newark plus the daily Maple Leaf between New York and Toronto and the Lake Shore Limited between Chicago and Boston/New York. Syracuse also provides baggage service to the Lake Shore Limited. The stop is a brief service stop on some Amtrak trains (it might be a fresh air stop and usually is on the Lake Shore Limited) with locomotive engineers changing on all trains but not the conductors.
For rail passengers: the station has a single extremely long high-level platform that can accommodate all 13 cars (including baggage) of the Lake Shore Limited. It is located on a siding just off of the main, busy two track Water Level route so stopping trains don't interfere with freight traffic. The rail line hear is located on an embankment above nearby streets. The platform's location on a siding is also the requirement (unless there is gauntlet track) for a high-level platform, otherwise wide freight trains have issues possibly sideswiping the high-level platform. The platform has other modern amenities like tactile warning strips and a green flat roof canopy over a large portion of the center of the platform. There are previsions for a second track along this platform with the center portion having a section of tactile warning strip and a concrete overpass designed for a second track to be laid. The rest of the platform becomes narrower and is more like a side platform with green railings. A second track at this station would be quite useful particularly because the 2013 schedule means that Eastbound Maple Leaf Train #64 (stops at 4:11) will wait short of the station for Westbound Empire Service Train #281 (stops at 3:53) if that train is at all a late or the Maple Leaf is early. The station platform has minimal signage with replica gold relief on black lettering New York Central Syracuse signs hanging on each end of the canopy and some green letters spelling Syracuse on the sides of the glass that surrounds the ramp up to the platform.
The provisions for the extra track (requiring a much shorter platform) were also intended also for OnTrack. OnTrack was a tiny commuter rail line that ran from 1994 to 2007. Originally the old RDC cars on owned and ran on the Susquehanna and Western Railway ran daily but in the final years were cut back to Saturday only. It ran from Carosel Center (the abandoned platform is visible from passing train) west of today's station to Syracuse University via Armory Square in Downtown Syracuse. It was supposed to be extended to the Transportation Center but a required bridge along the CSX line used by Amtrak was never built although the funding was secured. I did ride the RDC shuttle once in 1995 but before I started taking photos of transit stations. I never quite got to ride it again (it had a non-daily crazy schedule in the final years) in all my visits to see family in Syracuse.
To exit the platform there are three options, all are enclosed with green support beams and glass in between them. There is a ramp (ADA compliant I believe) a staircase and an elevator. The top of the elevator shaft has a green clock tower with a white clock on it. These lead down to ground level with a nice mural showing an Amtrak train and an enclosed passageway with plenty of windows. Along this passageway are modern metal benches for Amtrak seating. The Amtrak ticket/baggage office is at the end of this passageway where it connects to the main station. The main station has a much taller gabled roof and fewer windows. The theme of green continues. Along the NE side of this building are a number of bus bays used by Greyhound and New York Trailways Buses (that also use this stop as a rest stop). The SW side has the main pick up and drop-off loop and curbside bus stops used by CENTRO and MegaBus. On this side of the station is also a decent sized paid parking lot. Inside the rest of the building is a newsstand, Subway and Ducken Donuts so the station does have real food options. Until November 2012 parking at the station was complicated in various small lots and free or $5 for an unlimited stay. The parking area has now been expanded and reorganized, the cost is now $7 per day with normal parking gates on the one large parking lot (The first hour for passenger pick-up/drop-off is free).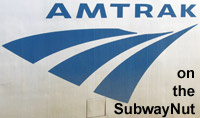 Last Updated: 26 January, 2013
This website is not affiliated with Amtrak, their official website is here, A source I have used countless times while compiling this section is Amtrak's Great American Stations
This Website is maintained and copyright © 2003-2019, Jeremiah Cox. Please do not remote link images or copy them from this website without permission.