South Bend (Bendix Station) is currently used by Amtrak, although it was originally built as the terminus of the South Shore Line (Interurban Railway) opening in 1970 when the City of South Bend decided to banish trains from street running into downtown. Since the South Shore Line follows the then Penn Central route as it heads east from South Bend with just a small area between the ROWs, the intercity rail station was moved from the historic Union Station to this location, just west of where trains previously began their street running route before ending in the heart of downtown near where a coach yard once was. Due to overcrowding in the tiny station and the prescense of a freight branch up Bendix Street almost into the airport, South Shore Line trains were rerouted to a new terminus at the South Bend Airport in 1992, increasing travel times by 10 minutes. South Bend lost all regular intercity rail service in 1971 with the creation of Amtrak, only the Broadway Limited route, via Fort Wayne ran through northern Indiana, the closest stop to South Bend was in Warsaw 51 miles south.
The first Amtrak Service to South Bend was trial service that ran along today's Lake Shore Limited (that takes the route of iconic New York Central trains like the Twentieth Century Limited, although this train bypassed South Bend on it's super-express trip) from later in 1971 until 1972. The train became permanent in 1975, as it continues to run today — early timetables even say South Bend, IN (South Shore Line Sta.). The Capital Limited first ran from Washington, DC to Chicago in 1981 but via the Fort Wayne Route. On November 12, 1990 with the abandonment of the route via Fort Wayne (and all rail service to Indiana's second largest city, the third largest Evansville, also lacks rail service, South Bend is the forth largest city in Indiana) the Capital Limited was rerouted via South Bend. The then-still operating Broadway Limited was rerouted via a different route, stopping in Nappanee, just 30 miles south of South Bend. This train evolved into the Three Rivers until service on this sparsely populated route was abandoned on March 8, 2005. South Bend did receive a third train a day, when the Pennsylvanian ran as a Philadelphia to Chicago train (during Amtrak's disastrous experimental expansion into the express freight business) from November 7, 1998 to January 27, 2003. A forth train, called the Skyline Connection along the Philadelphia to Chicago route is listed in the May 2000 timetable, but never actually began operations. The South Street Station transfer center used by the local bus system Transpo (that provides limited service to the station) is directly along the railroad tracks just south of downtown, just east of the historic Union Station and has provisions to be turned into a combined railroad station but Norfolk Southern has blocked attempts to bring Amtrak to this large building because of switch location issues. South Street station is where two branch lines intersect the main line and Amtrak stopping in downtown for five minutes would create freight train congestion.
The current station consists of a small single-story cinderblock blue building with a slightly overhanging roof, it has a porch on the platform side of the building, a short ways away from the former South Shore Line platform. This track ends at tiny metal siding bars a few feet beyond. Outside on a porch are some plastic chairs.
The small station waiting area is open for two shifts, one in the morning for the two westbound trains from , and an evening shift for westbound trains with hours from 5:30pm and 1:00am. Full checked baggage service is also offered. Inside is a single ticket office with a ticket window, a small waiting area full of modern silver, padded benches. In one corner the Amtrak agents have a kiddy corner with kid's table (with a sign requesting adults not sit and break the chairs), there is a shelf with a few kids books and a generic kids ride 50% off sign that has been customized by the agents to say "Amtrak little artists." There are also restrooms that haven't changed since 1970 but seem adequate. The strangest feature for a train station in the depot is the venation blinds that seem to be kept closed, with small cloth window treatments covering the tops of the windows, these are blue in most areas of the station, with some kids Thomas the Tank Engine themed ones by the kiddy corner.
To reach the Amtrak platforms, passengers must cross the former South Shore Line track and go up a short ramp (the mainline now Norfolk Southern tracks) with a dilapidated railing. There is a sign that says please don't proceed before Amtrak agent on the ramp but this is not enforced. This ramp leads up to a third of the way down two long low-level side platforms one for each track of the two-track mainline, trains are normally routed to stop on track 1, the track closest to the station for convenience. A pedestrian grade crossing with look out for trains sign is directly in front of the platform entrance. These platforms begin at the grade-crossing of Meade Street and run west, there are few platform amenities, the south platform for track 2 has a small blue metal shelter with South Bend IN stenciled on it, no bench is inside. Track 1 has a first generation wheelchair lift enclosure that is a modular locked shed that looks like one you'd buy for a backyard. All lampposts are of the highway style, on wooden telephone pole variety. The station did recieve modern signs and tactile warning strips along all 3 platforms under the recovery act.
Photos 1 & 2 taken on 22 May, 2016; 3-27: 24 June, 2016; 28-33: 1 July, 2016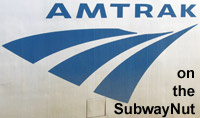 Last Updated: 17 July, 2016
This website is not affiliated with Amtrak, their official website is here, A source I have used countless times while compiling this section is Amtrak's Great American Stations
This Website is maintained and copyright © 2003-2019, Jeremiah Cox. Please do not remote link images or copy them from this website without permission.