Schenectady, New York is the worst AmStation I've ever gotten off at. Graffiti artists have tagged the platform and issues with water damage in the station so some walls are pealing paint. There are presently no signs of repair, although CDTA (Capital District Transit Authority) is leading a project to replace it with a modern intermodal station at the same location. The present station opened on August 8, 1979 replacing a temporary shelter station which opened in a former gas station on October 8, 1978 to restore train service to downtown Schenectady which lost it in 1969. From 1969 to 1978 PennCentral for the first two years Amtrak served Schenectady at a stop in Colonie, 9 miles east (towards Albany) of the present station.
The stop is elevated and located on a section of track that runs on a high embankment above and over the streets of downtown Schenectady. The station has a single low-level island platform between two out of three tracks that pass through the station. Adirondack and Ethan Allen Express trains can only platform on track 2. The switch they use to curve north to Saratoga Springs leaving the mainline corridor is just before the platform actually ends for track 2. Trains on the mainline Water Level Route used by the two extended daily Empire Service trains, the Maple Leaf and Lake Shore Limited (which also receives baggage service) can stop on either track 1 or 2. I have passed through the station on multiple occasions while another train was doing its station work at the same time. The station receives a nice large (and unique total for the corridor) of six trains per day to New York City.
The low-level island platform is high enough not to require stools but lacks a tactile warning strip and has just a faded yellow line. It begins just north of the overpass of State Street (that overpass is engraved with the year it was first built, 1906), which includes connections to CDTA's BusPlus+, and extends over Liberty Street's underpass almost to Union Street. The platform is long enough for any of the 11 cars of the Lake Shore Limited to be opened at the same time as baggage service is carried out. There is a canopy held up a flat roof held up by generic black columns There are only three signs that say Schenectady, NY in white on a blue background on the platform, two are at each end of the platform and seem like their designed to be read by train crews and not passengers, one faces track 2 along the vandalized concrete that surrounds the staircase to the street. There are also a bunch of hand painted Helvetica Location Number and Track sings hanging from the canopy (that I have never seen the train crew use).
To reach the street passengers must enter through the graffiti covered doors of the staircase or elevator entrance. Both of these are in little brown concrete buildings connected by a continuous overhanging roof that resemble mini AmStations below. I only took the staircase, it is quite dark and has white peeling paint cinderblock walls with some panels of local artwork to try and make it seem more welcoming. It leads down to a little hallway at street level and two sets of doors:one leads directly out to the street and the other into the AmStation waiting room after a door marked for the Schenectady Sheriff. The elevator leads directly into the AmStation right by two wheelchair lifts that I assume are kept downstairs to avoid vandalism.
The AmStation is located along the southern side of the viaduct inside the State and Erie Parking Lot. It is the standard brown concrete wall with a flat black overhanging roof that looks like Amtrak stations all over the country (except most aren't partially built into the bottom of a viaduct). Inside the station are benches with individual black seats, white cinderblock walls. There are large capital letter signs for the amenities of the station including one for Vending although there are no vending machines I noticed. The ticket window has two agent positions but a QuickTrack machine blocks the second opening for checked baggage. There are also restrooms and a water fountain. There are brochure racks along the walls for "Say Schenectady" tourism information, and other racks for the usual large number of leaflets found at an Amtrak station.
Photos 1-68 taken on 14 August, 2012, 69-74 out of the Ocean View dome car on the Adirondack on 20 October, 2012, 75-118 on 26 November, 2012 taken on a layover to ride VIA Cars on the Adirondack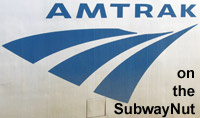 Last Updated: 4 December, 2012
This website is not affiliated with Amtrak, their official website is here, A source I have used countless times while compiling this section is Amtrak's Great American Stations
This Website is maintained and copyright © 2003-2019, Jeremiah Cox. Please do not remote link images or copy them from this website without permission.