Home<Amtrak<

Rutland, VT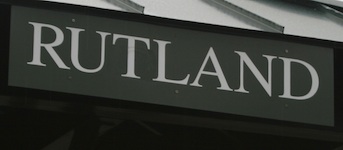 Rutland, VT is the terminus of the Ethan Allen Express, a line subsidized by the Vermont Agency of Transportation that began operating in December 1996, although it only makes 2 stops in the state, running less than 20 miles within it. There is current movement afoot to extend the service from here north to Burlington, and redirecting service south through Manchester and Bennington Vermont. In both 2008 and 2009 it was threatened to be cut by the AofT but polititions prohibited it
The station itself is located on the edge of downtown Rutland with some nice pavement of parking lots between the station and the old downtown that mostly belong to a Wal Mart that the station and train tracks are behind. The stop has a single side platform that is maybe four cars long with steps that lead up to a mini-high level platform, that two doors can platform with a metal bridge plate for access. All trackside platforms have ADA tactile warning strips. There is a second track that terminating trains use for a siding pararell to the station platform. The platform is fully fenced with a gate that is only open when its time to board a trian. The station also has a modern station house that was built along with the station and formerly had until 2002, a staffed ticket office and checked baggage service. The station currently has a small waiting area, restrooms, and brochure racks with Vermont Tourism and Amtrak service information. The station is parallel to the platform and has doors out to both the lower platform and a staircase and wheelchair lift with direct doors out to the mini-high level platform, providing ADA access. There are also a set of street side doors out to the parking lot.
Page 1

|Page 2
(rutland1) A sign for the Amtrak station on a local street


22 August, 2010

(rutland2) The station and awaiting Sunday evening train back to New York (that allows passengers to spend a full weekend in Vermont) are in the distance across a lot of parking lots.


(rutland5) P32AC-DM #700 parked on the siding across from the Rutland Station platform.


22 August, 2010

(rutland6) P32AC-DM #700 gears up (it's lights are on) to switch over and back onto the platform to board its passengers for the Sunday evening trip back to NYC


(rutland9) The grade crossing, fully armed (with lights, bells and an arm) for pedestrians that leads to an industrial area just beyond the station's platform


22 August, 2010

(rutland10) P32AC-DM #700 still on the siding


22 August, 2010

(rutland11) Looking down the simple low-level platform at Rutland with the next southbound Ethan Allen still parked on its siding


22 August, 2010

(rutland12) On the uncovered portion of the Rutland platform looking back towards the station house and mini-high level platform and portion that's canopied


22 August, 2010

(rutland13) P32AC-DM #700 passes through the pedestrians only grade crossing at Rutland


22 August, 2010

(rutland14) The former Santa Fe Dining car Epicurus running as private varnish serving scenic dinners on the Ethan Allen, under various names on poritons of the Etahn Allen Route.


Page 1

|Page 2
Home<Amtrak<

Rutland, VT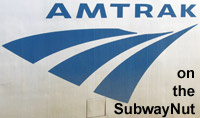 Last Updated: 12 September, 2010
This website is not affiliated with Amtrak, their official website is here, A source I have used countless times while compiling this section is Amtrak's Great American Stations
This Website is maintained and copyright © 2003-2019, Jeremiah Cox. Please do not remote link images or copy them from this website without permission.