Reno, NV is definitely one of the strangest Amtrak Stations I've been to. It is located in a concrete trench in the center of town. The station platform is simply an area where a tactile warning strip begins along the six-foot area at the side of the two-track trench. The stop has service from the daily California Zephyr that has brisk ridership on passengers doing just the day trip from Reno to Northern California. It is also a fresh air/smoke stop and crew change point. Amtrak Thruway Buses to Sacramento (connecting to the Capital Corridor) also serves the station The unique trench situation hasn't always been the case; the concrete trench putting the track below ground was the Reno Transportation Rail Access Corridor and the trench only officially opened on November 22, 2005. This resulted in the current below grade platform being built. The trench was built to kick trains off of blocking downtown streets every time they pass through down. To leave a train in Reno a passenger exits to doors to a lower-level modern waiting area with modern seating but a historic relocated fountain in the middle from the women's temperance movement. Baggage must be claimed on this level. A staircase (via an intermediate upper mezzanine), an escalator that is behind a closed gate (where a mobile lift is as well) and two elevators, one for passengers, one for service only leads up to a modern wing of the upper level depot. In this wing is where the Amtrak ticket windows are found. It is attached to the historic and renovated 1925 SP Station with its historic wooden benches. The upper level portion of the station runs from Lake Street to Center Street along Commercial Row.
Photos 1-10 taken on 21 March, 2008, Photos 11-17 taken on 13 March, 2010, 18-40 on 11 February, 2012, 41-56: 16 January, 2014, 57 & 58: 15 January, 2015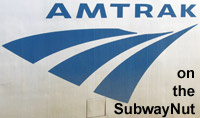 Last Updated: 14 March, 2012
This website is not affiliated with Amtrak, their official website is here, A source I have used countless times while compiling this section is Amtrak's Great American Stations
This Website is maintained and copyright © 2003-2019, Jeremiah Cox. Please do not remote link images or copy them from this website without permission.