Raton is the most northern stop in New Mexico, just south of the Colorado border, and the namesake pass where that trains cross at 7,588 feet of elevation, the highest point on the Southwest Chief and historic Santa Fe railroad It is notable for the thousands of Boy Scouts that get on and off each summer at the station as they head for the Philemon Scout Ranch. It is also the connecting point for Throughway Bus Service operated by Greyhound heading north up I-25 to Denver, Colorado. The station consists of a historic 1903 depot surrounded by dusty unpaved parking lots just off of South 1 Street (across from Cook Avenue). The depot is in the Spanish Revival Style and made of stucco and brick. The building is painted a light cream color. The building houses minimal offices BNSF along with a small Amtrak waiting room. This waiting room is small, painted white, and contains two rows of red and blue chairs, along with bathrooms. It is open and closed by a caretaker with Amtrak in the possibly staffing the station in summer to offer the Boy Scouts checked baggage service.
Trains stop along a dusty brick platform, a bit beyond the depot, where there are currently 5 tracks in the area although there were probably once more. This brick platform has a simple concrete edge and yellow painted line. Stools are used for the large step between the platform and the train. At the southern end of the platform is a small concrete 6 inch high platform that is maybe 10 feet long (for one door). It contains a modern brown wheelchair lift enclosure, two green lampposts, and a gradual ramp down to two newly paved ADA parking spaces in the middle of the dusty lots that surround the station. Some dust already covers a portion of the ADA ramp. The ADA improvements also added modern silver with blue text Raton, NM signs along the platform.
Photos 1-14 taken on 13 March, 2008 on a visit by car; 15-42: 21 September, 2015 on a quick Southwest Chief Smoke Stop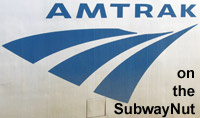 Last Updated: 23 September, 2015
This website is not affiliated with Amtrak, their official website is here, A source I have used countless times while compiling this section is Amtrak's Great American Stations
This Website is maintained and copyright © 2003-2019, Jeremiah Cox. Please do not remote link images or copy them from this website without permission.