Ottumwa, IA is an Amtrak Station in a small city in southeastern Iowa. It is served by one train per day, The California Zephyr. The current station building is a large limestone faced building that was opened in 1951. Most of it currently contains the Wapello County Historical Society. That also has a Burlington Route locomotive that is barely visible behind the station building on the western end of the platform. Amtrak still maintains a staffed station and waiting area in the building, although there is no checked baggage service. The stop has two platforms since the line is two tracks here. Both have quite weathered looking canopies, one is a side platform alongside the westbound track, the other is alongside the eastbound track and is an island platform that is accessed via a single small wooden walkway in the middle of the westbound platform.
2011: The stop recieved quite a few new grey Amtrak Ottumwa, IA station signs that are now along both platforms.
Photos 1-15: 20 August, 2008, 16-20: 29 May, 2011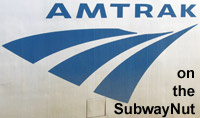 Last Updated: 2 June, 2011
This website is not affiliated with Amtrak, their official website is here, A source I have used countless times while compiling this section is Amtrak's Great American Stations
This Website is maintained and copyright © 2003-2019, Jeremiah Cox. Please do not remote link images or copy them from this website without permission.