Northampton had Amtrak service restored on December 29, 2014 when the Vermonter was rerouted via the rebuilt Pan Am Southern Line (the Knowledge Corridor). The stop was previously served by Amtrak in the middle of the night between 1973 and July 1987 by the Montrealer. Train service was discontinued in July 1987 because of deteriorating track conditions and when it was restored in 1989 trains began running via a more eastern route stopping in Amherst (a now discontinued stop) 6 miles east of today's stop. Trains stopped at a low-level platform in the same location as today. The station appears to have been unstaffed then.
To restore service a temporary 30 foot wooden high-level platform was construction in the parking lot just south of the historic 1897 Union Station. This building is currently a banquet facility and bar. The high-level platform has a wooden canopy and is complete with a ramp and short staircase up to trains. The platform has one MBTA style sign that's blue with all caps white text above a white line hanging from the wooden canopy.
Photos 1-12 taken on 29 December, 2014, the day service restarted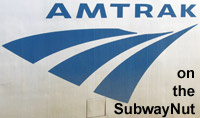 Last Updated: 29 December, 2014
This website is not affiliated with Amtrak, their official website is here, A source I have used countless times while compiling this section is Amtrak's Great American Stations
This Website is maintained and copyright © 2003-2019, Jeremiah Cox. Please do not remote link images or copy them from this website without permission.