New Orleans is the terminus of 3 major long-distance Amtrak routes, the City of New Orleans running daily service due north to Chicago, the Crescent with daily service northeast New York, and the Sunset Limited that runs triweekly service west to Los Angeles (and has run triweekly since 1970 before the creation of Amtrak). From April 4, 1993 until Hurricane Katrina 'temporarily suspended service' on August 28, 2005, the station was just an intermediate stop on the Sunset Limited. When the Sunset Limited was a through train all crews (including sleeping and dining car attendants) changed in New Orleans with the train's final schedule having a 2 hour and 35 minute stop westbound (from 9:20am to 11:55am with about 3 additional hours of recovery time), and a 6 hour and 30 minute stop eastbound (from 4:00pm to 10:30pm, with an hour additional recovery time). Otherwise although New Orleans serves as a crew base it has received only a small amount of additional service over the years with the only other service attempted from the Golf Coast Limited to Mobile, Alabama. This once daily corridor type train was trialed twice, first from April 29, 1984 to January 6, 1985 and again from June 27, 1996 to March 31, 1997.
Trains currently stop in the Union Passenger Terminal that opened in 1954 consolidating train travel in the region. The station is currently the intermodal intercity bus station for New Orleans with Greyhound and MegaBus also using the station. Bus bays have been built over what were once additional rail platforms with the entrance to the bus gates looking very similar to the gates for the rail platforms. Today trains stop on what are 6 tracks for 3 platforms, all ending in bumper blocks (the City of New Orleans has to do a reverse move to access the station) along the train terminal. The platforms are all low-level and covered by rusting metal canopy structures. There is a just a painted yellow line along the platform edges. Private varnish cars and random baggage cars can often be found on a few of the tracks just before the bumper blocks.
Entering the passenger terminal passengers are greeted to a waiting room with a white roof of florescent lights, and the first air conditioned train station in the country. Along the upper portions of the walls are 2,166 square feet of murals by Conrad Albrizio displaying the history of Louisiana (primarily through people). Amtrak uses what is clearly the original ticketing area with marble counters and train departures listed on static felt boards. Trains can board via two gates. The Greyhound ticket office is in what was clearly office space added later with rooflines extending out under the historic murals that line the roof of the terminal. There are two seating areas the majority closest to the Amtrak gates are brown individual plastic bucket seats, while simpler more modern black seats are closer to the Greyhound gates.
Leaving the station there is a main grand entrance. Silver letters read Union Passenger Terminal above the awning of the main entrance. There is a driveway followed by a grassy and palm-tree lined plaza that leads back to Loyola Avenue. Leaving via a side entrance provides access to the new terminus of the Loyal/Rampart Streetcar Line that opened on January 28, 2013.
All Photos Taken on 31 December, 2016.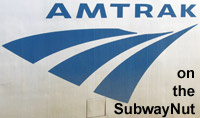 Last Updated: 23 January, 2017
This website is not affiliated with Amtrak, their official website is here, A source I have used countless times while compiling this section is Amtrak's Great American Stations
This Website is maintained and copyright © 2003-2019, Jeremiah Cox. Please do not remote link images or copy them from this website without permission.