Las Vegas, NM is a northern New Mexican unstaffed station on the Southwest Chief. The cities has no similarities to it's much, much, much better known namesake in Nevada, although it does warrant a nice big bold note underneath the station name on the Amtrak.com Station list of 'No Casino Resorts', with Las Vegas - Bus Service, NM listed underneath it. The station has a large 1899 two story building in the Spanish Mission Style. It is primarily made of brick with a Spanish tile roof. It is currently the Las Vegas Intermodal Facility and home to a passenger waiting room and the city's visitor center. The station is also home to the local demand response MCE minibus and van system, also known as Meadow City Express.
The station building is located just east of Railroad Avenue, at the end of Lincoln Street (which ends at a small parking lot before the depot). Trains stop at a long platform a bit in front of the station house, there is a brick-off area, before a small strip of sut, before finally, the current platform made of brick. This platform is relatively uneven with a painted yellow line. Along the platform, new silver Las Vegas, NM signs have been added along with a wheelchair lift enclosure but no further improvements to the historic, but uneven brick platform. This platform is on the edge of what was clearly once a large rail yard now with only about four tracks. North of the station, along the end of the platform, is the Hostel Casteneda inside the old Harvey House.
Photos 1-19 taken on 13 March, 2008 on a visit by car; 20-28: 21 September, 2015out the back window of the stopping Southwest Chief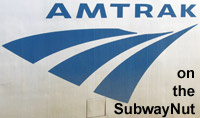 Last Updated: 23 September, 2015
This website is not affiliated with Amtrak, their official website is here, A source I have used countless times while compiling this section is Amtrak's Great American Stations
This Website is maintained and copyright © 2003-2019, Jeremiah Cox. Please do not remote link images or copy them from this website without permission.