| | | |
| --- | --- | --- |
| Elizabethtown, PA | Pennsylvanian | Parkesburg, PA |
| Mount Joy, PA | Keystone Service | Exton, PA |
Lancaster is the major intermediate city on the Keystone Corridor between Harrisburg and Philadelphia, with all Keystone Service trains, plus the Pennsylvanian stopping. The station is also shared with long-distance bus services. The station is a grand red brick classical revival building built in 1929 complete with high-level platforms. It was last renovated between 2009 and 2013. Plaques on the 3 passenger elevators in the station say "Amtrak Bridge & Building Department 1998." The station is located about a mile north of downtown with the Red Rose Transit Authority's Historic Downtown Trolley (using modern buses designed to look like replica trolleys) connecting the station to downtown every 20-30 minutes. The station is also home to the Amtrak Communications & Signal Training Center. This center is located inside the former freight house along the railroad line. Finally there is an 80-space (30 short-term, and 50 long-term) Park & Ride lot that charges for long-term parking and has an attendant.
Passengers arrive at the station in front of a grand two-story brick building; the center of the building has four granite columns between two tall two-story windows. Pennsylvania is etched in the top of the facade beneath a still-functioning clock. All access is from a driveway loop. A grassy plaza separates the car loop from McGovern Avenue. Amtrak has installed a modern silver column that says Lancaster Station in the grassy area along McGovern Avenue. The short and long-term parking lots are just to the west of the building, keeping long viewsheds of the facade uniterupted. Passengers arrive to an entrance concourse with some retail space (vacant when I visited). A grand staircase (and nearby elevator) leads up to the ticket office and waiting room with historic wooden benches. Lettering for side areas still exists for Telephone-Telegraph and Roda's Coffee House. There are also a few Quik-Tack machines between the ticket offices that are open for all departures. The Amtrak Police also have a station here.
Plaques in main station area are for the National Railway Historical Society that was founded at the station in 1935, and a second commemorates their restoration of the historic clock outside the station that was installed on April 27, 1929, removed from service in December 1965 and rededicated on April 17, 1996.
To reach trains, passengers go to the back of the main area where three sets of doors lead out to the train gates on a wide overpass area with additional benches. The train gates (which are not locked or policed, and passenger tickets not checked before train departures) each have a staircase on one side and an elevator on the opposite side down to the eastern ends of two former island platforms. These platforms begin under the bridge of Duke Street (at their eastern ends) and originally could fit 18ish cars extending nearly to the Prince Street Bridge. These were originally two island platforms on a ROW that could fit at least 6 tracks, including two middle electrified express tracks that didn't platform at all and have been removed. Today, only about half of each platform is open and only for the inside track along each platform, making them effectively side platforms (there are two more siding tracks on the outsides of the platforms). White fencing keeps the rest of the platforms closed. The platforms are covered for most of their open lengths with white canopy structures held up by round columns. Each platform also has a former freight/baggage elevator portal that leads down to an underground area that leads into the former freight building that is now Amtrak's Communications & Signal Training Center.
All Photos Taken on 5 July, 2013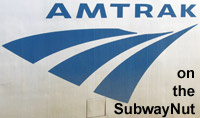 Last Updated: 27 March, 2017
This website is not affiliated with Amtrak, their official website is here, A source I have used countless times while compiling this section is Amtrak's Great American Stations
This Website is maintained and copyright © 2003-2019, Jeremiah Cox. Please do not remote link images or copy them from this website without permission.