Harrisburg, the State Capital of Pennsylvania is the terminus of Amtrak's Keystone Service trains that operate on the Amtrak-owned, electric and fully grade-separated ex-Pennsylvania Railroad Main Line, now known as the Amtrak Philadelphia to Harrisburg Main Line or Keystone East. Today, only the once a-day Pennsylvanian continues the entire length of the Keystone High Speed Rail Corridor (as designated by the FRA) to Pittsburgh. Before November 1, 2004 and throughout the history of Amtrak there were two daily trains running between Harrisburg and Pittsburgh (with one or both trains running to Chicago or other points west).
Harrisburg is a crew-change stop (with some recovery time) on the diesel Pennsylvanian that runs under the wire into Philadelphia where the diesel locomotive is swapped for an electric one as the train changes it's direction of travel in the station before continuing to New York. All Keystone Service trains are push-pull electric (with ex-Metroliner cab cars at one end) for this same reason.
The historic red brick Queen Anne Style station was completed in 1887 although renovations after a fire in 1905 led to the building of the current distinctive wooden and masonry train shed over the tracks and platform. Electrification reached Harrisburg from Philadelphia in 1938. Between February 1, 1988 and November 2006 Amtrak went back to using diesel locomotives on nearly all trains, because of electric locomotive shortages and a decaying catenary system. Finally, Pennsylvania Railroad GG1 #4859, the first locomotive to pull an electric train into Harrisburg in 1938 and a caboose permanently occupies one of these tracks. From 2014 until October 17, 2015 the historic equipment was moved for renovation work to a nearby siding and shirk wrapped for protection from the elements and vandals.
Today arriving passengers enter the station from a slightly raised viaduct of Aberdeen Street off of Market Street, near 4th Street. Vehicles and pedestrians arrive a the elevated second floor entrance of the building with a plaza leading beyond back to street level. Greeting them is the historic brick building, complete with awnings over the second and third story windows.
Entering the station from the street passengers reach the main concourse area with Amtrak ticket windows, a police station, and a lost and found area. This grand area includes two restored fireplaces (although burning fires in them has long area) and a newsstand. Staircases and elevators near the north side of the building lead to the Intercity Bus Station in the basement located at actual street level. Straight ahead in this main area is the wide waiting room located on the overpass with gates down to trains. This area has with wooden benches and historic lamps. Access to all platforms from the main waiting room is only from two staircases. There is a separate overpass, formerly for baggage with elevators, requiring red cap assistance. When I visited in 2013, elevator renovations meant red caps had to be called for train access with passengers heading down to track level within the station building before being taken on an electric golf cart out to their trains using an employee only level crossing on the south side of the station beyond the ends of platforming trains.
Under the train shed, today the station has roughly six surviving tracks. Starting from the main station building a few tracks and platforms have been removed and turned into an employee parking lot and an area for other maintenance. Next is a small now low-level side-platform for the first track that is misaligned and far from the track, as if there used to be a second track. Passengers board trains on this track using temporary wooden ramps that are basically mini-high level platforms for each set of car doors. Next is a low-level brick island platform that also platforms for the first track and is unused normally except for the GG1 and caboose that are parked along it. Next are two more tracks with a high-level island platform, followed by another two tracks and a low-level island platform (normally used for train storage).
All Photos Taken on 5 July, 2013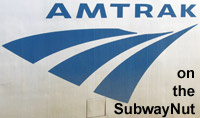 Last Updated: 2 March, 2017
This website is not affiliated with Amtrak, their official website is here, A source I have used countless times while compiling this section is Amtrak's Great American Stations
This Website is maintained and copyright © 2003-2019, Jeremiah Cox. Please do not remote link images or copy them from this website without permission.