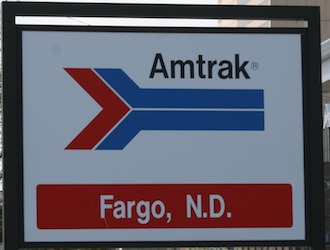 Fargo, ND Amtrak station is located on the northern side only a few blocks from the center of downtown. The station is located at a grade along a trackway that passes with grade crossings basically directly through downtown Fargo. There is also a freight line on the southern side of downtown that passes through at a grade, causing traffic jams, but no longer has any passenger service although it appears that the former train station house for that route has been turned into regular shops. The current station is located in a small, but quite older looking building. It faces a long and quite wide platform, it is opened also only in the middle of the night and is a service stop when the Empire Builder passes through town.

Page 1

|Page 2
(fargo1) Approaching the Fargo, ND Station building.


22 May, 2009

(fargo2) An old format sign at Fargo informing Amtrak passengers that the passenger station entrance is at the other end.


(fargo5) An Amtrak Fargo, ND station sign.

(fargo9) The Fargo, ND Amtrak station's late night hours, Daily Midnight to 8AM.


22 May, 2009

(fargo10) Looking into the Fargo, ND station, it was redone in the 1970s and has plastic benches


(fargo13) Two signs that say Fargo, one in the Amtrak font and another in a building that has a clock tower, that is now a bike shop.


22 May, 2009

(fargo14) An generic Railroad station sign with Amtrak written beneath it in Fargo, ND.


Page 1

|Page 2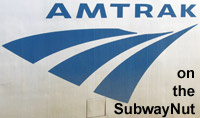 Last Updated: 13 December, 2009
This website is not affiliated with Amtrak, their official website is here, A source I have used countless times while compiling this section is Amtrak's Great American Stations
This Website is maintained and copyright © 2003-2019, Jeremiah Cox. Please do not remote link images or copy them from this website without permission.