Elyria, OH is a station on the Lake Shore Limited and Capitol Limited and has been an Amtrak station since Amtrak reinstated on service on the Water Level Route in 1975. The station's building burned down on October 25, 2013 with passenger amenities now limited to a bus shelter.
The station is located on an elevated embankment just east of where the tracks cross over Bridge Street. The station itself consists of a low-level (below track-level) platform on the southern side of the 3 track ex-New York Central mainline. A train can stop on the middle track (opening) one door at a small track crossing to a small asphalt boarding area. There is no platform for the north track. For passengers there is a small black shelter with a built in bench on one side and a few sets of additional black attached chairs on the opposite side. Next to the shelter is an Amtrak information panel and a wheelchair lift enclosure down the platforms. There is one outdoor wooden bench in front of the information panel. The platform is lined with a few modern silver Elyria, OH platform signs.
To leave the platform passengers head down a concrete ramp that switchbacks once to a parking area below the platform. There is a small paved parking area with two Accessible parking spaces. The rest of the parking lot leads back to an area that's either unpaved or paved with brick. Access to the station is from an entrance area shared with a building for the Lorrain County Health and Dentistry and requires passing by an abandoned industrial winch. The station entrance by the intersection of East River Street and Buckeye Street contains an old Amtrak pointless arrow blue "Rail Passenger Station" sign.
Photos 1-35: August 11, 2019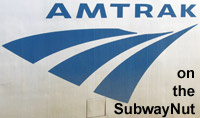 Last Updated: 29 September, 2019
This website is not affiliated with Amtrak, their official website is here, A source I have used countless times while compiling this section is Amtrak's Great American Stations
This Website is maintained and copyright © 2003-2019, Jeremiah Cox. Please do not remote link images or copy them from this website without permission.