Amherst, MA had a short life as an Amtrak Station between July 1989 and December 28, 2014. This was when the overnight Montrealer was restarted in 1989 after being substituted for two years by bus service and began running via Amherst, Palmer and via New London and Willamantic. In 1995 when it became the Vermont State-funded day train, it was cut back to St. Albans and the Palmer back-up move began to route the train via Springfield and Hartford. On December 29, 2014 Vermonter trains were rerouted back to the original pre-1987 route of the Montrealer, when service was suspended in 1987 due to deteriorating tracks. The longer route was chosen to restore service via Amherst in 1989 because of the still terrible track conditions. As part of the Recovery act of 2009, Massacussettes got $70 million in stimulus funds to reroute the train back to the original, more direct Connecticut River route. This closed the Amhurst Station and forcing these passengers to travel 12 miles to Northampton for faster service. The Amherst select board, for example hasn't been too pleased and has passed resolution to support Amtrak service not leaving the town. In FY2010 (2011 had 3 months of service interuptions) Amherst had 12,238 passengers in 2011 (rank 307), down from 14,600 (280) in 2012.
The Amherst depot was one of the oldest served by Amtrak and the brick building was built in 1853, meaning the famed local poet Emily Dickenson would have remembered it. The building is made of brick and is a single story with curves above all of the windows and a central tall chimney rising above the middle of the building. All passenger rail service had ended by World War II. The trim is green and there are a few green (one with gold letters) Amherst signs along the walls of the depot. The depot in 1992 it was restored with an Amtrak waiting room in one portion (open for two hours around each train departure in each direction), Amtrak's website claims the station is just a platform with a shelter, and a Yoga Studio in the other. The waiting room of this unstaffed station is open for within two hours of each train departure. Inside are four wooden benches that are identical to those ubiquitously on the New York City subway system, and a random wooden baggage cart. It leads out to a ramp down to a small concrete platform with a wooden edge, and there is more wood just beneath the depot. On the platform is a single metal bench with a plaque (I didn't catch the engraving). On its northern end, just beyond the depot is a modern Amtrak information panel, at the southern end is a modern wheelchair lift enclosure (with some graffiti on it) and a modern metal Amtrak station sign. No tactile warning strip was installed. This seems like a waste of a little bit of money to improve the Amherst station with service discontinued just five years after the improvements. Streetside the depot leads out to a parking lot (for Pilates and Amtrak patrons only) and a short driveway up to Main Street on the eastern edge of downtown Amherst.
August 2012 Update: The graffiti on the wheelchair lift enclosure has been etched off but looks even worse.
Photos 1-25 taken on 20 March, 2012, 26-31 on December 28, 2014, aboard the last Amtrak Train to stop in Amherst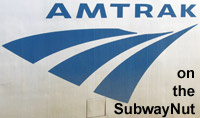 Last Updated: 28 December, 2014
This website is not affiliated with Amtrak, their official website is here, A source I have used countless times while compiling this section is Amtrak's Great American Stations
This Website is maintained and copyright © 2003-2019, Jeremiah Cox. Please do not remote link images or copy them from this website without permission.